Cabin Crawl - Nov. 30, 2014 / PCC 5.0
---
If you are willing to let others gawk at your cabin. Or you just want to gawk...

??? 1st Sea Day - TBD

I will have a printed list of cabin #s, and suggested order. We'll meet at one location, and head out from there. The crawl should take an hour max. Those who have volunteered to show their cabin either need to be at head of the pack, so they can unlock their cabin, or have someone who can be at the cabin. Some have volunteered to have snacks available at their cabin, but that is entirely optional.

For now - if you are willing to show your cabin, just list the category.
__________________
Jennifer
Packing List/FE List for Nov. 30, 2014/PCC 5.0
Unofficial Events - Nov. 30, 2014/PCC 5.0
What is an FE?
DCL info thread

MK [and EPCOT under construction] 3/82, WDW 7/99, WDW/DCL 7/02, Indy DIS 9/10, PCC DCL/WDW 12/10Indy DIS 9/11 PCC DCL/WDW 12/12DAP 12/13
Cruised: DCL, CCL, X, RCCL, NCL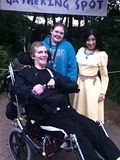 ---
Last edited by mdvlprof; 01-04-2014 at

05:16 PM

.