December 22, continued
We left Downtown Disney at about 1:30 p.m., passing an amusing incoming amass of people -- amusing in that half were dressed for winter and half were dressed for summer. It was 80 degrees when we left DTD, and the high that day was 86. Despite being used to humidity and unseasonably warm winters in Oklahoma, I was a bit warm in my T-shirt and denim Capris. There was a steady crowd heading into DTD as we left. Remember, the last we were there was May 2012, the week before Memorial Day weekend. That week, according to Easy WDW, was rated a "5" on the crowd calendar. December 22, 2013 was rated a "9." I didn't find the crowds (at DTD in the early afternoon) oppressive, but they were more noticeable than they had been in mid-May.
MAGIC BANDS!! They were available in our three favorite colors.
We had no issues with our Magic Bands all week: they worked as room keys, as park tickets, as FP+ scanners, for Dining Plan redemption and for Photo Pass+. Even Jonah was able to haphazardly match up the Mickeys to open the door and to redeem his FP+ selections. I know there have been a LOT of glitches and many Disney watchers were leery about how they would perform during the high-crowd holidays, but we had no issues. I'm not a computer programmer, but I would surmise that a lot of the reason our experience was so seamless is that there are only 3 of us and all of our reservations, from hotel to dining to FP+ were all exactly the same and were all made by me under my main account. I did see several people over the week at Guest Services attempting to link larger groups and having issues. We did have ONE minor problem our last day, but I'll detail that in a bit.
Port Orleans French Quarter! Oo De Lally, I love this resort! I looked at AoA and Ft. Wilderness and Animal Kingdom Lodge when I was planning our trip, but we really loved this small, quiet and lovely little resort, and the price isn't bad at all, even during heavy markup seasons like Christmas.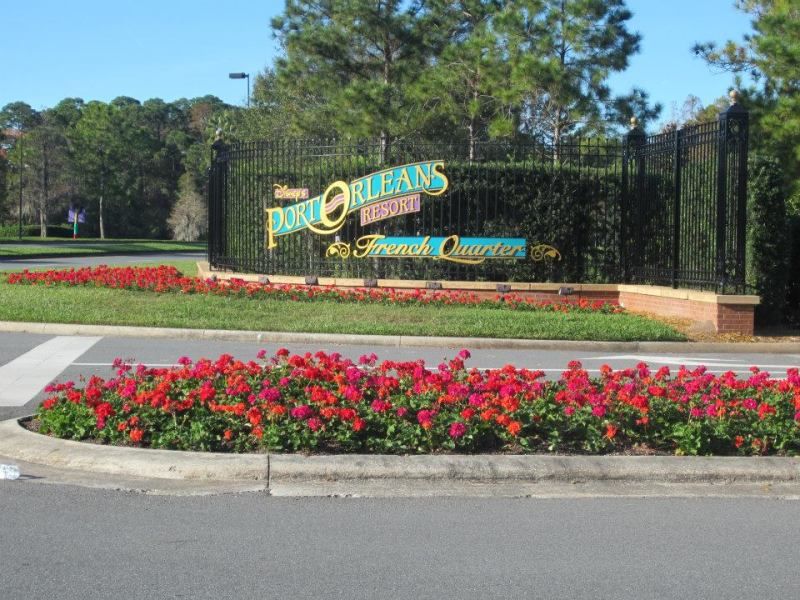 Our room in building 4.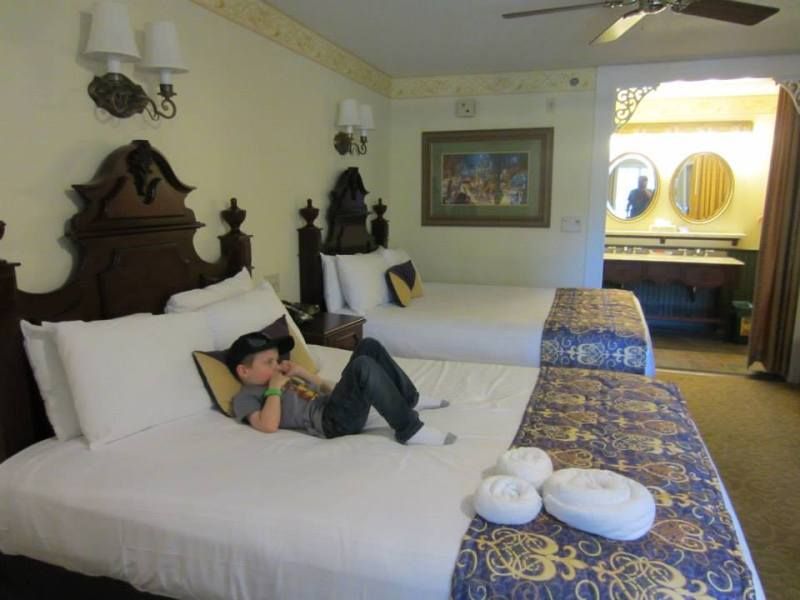 I had requested Building 5 since we'd stayed there last time and really enjoyed our room (despite proximity to the swimming pool and its noise). I made the reservation in February and the request at the same time, and forgot to follow up. I figured we'd take what we could get at Christmas time. When we walked in to register at around 2:00, we were prepared to be told rooms were not ready and we'd just hop a bus to the MK.
However, there were several cast members working the lobby, only a handful of guests attempting to check in, and since I'd already pre-registered online, it was only minutes before we had our packet in our hands and we were heading toward Building 4 to drop off our luggage. We got a bit of pixie dust, as Building 4 is the closest to the food court, front desk *and* the one bus stop at POFQ. We also received a corner room and it was so quiet and had such a peaceful view that we forgot that we were at Disney World during its dreaded holiday season.
But never mind that...off to the Magic Kingdom!!!
First bus ride to the MK! We were three of six people on this 3:45 p.m. bus to the Magic Kingdom, and the bus traveled directly to the MK without stopping to pick up others at Riverside (the only occasional downside to POFQ's bus system, since the resort is so small and the bus stop easy to get to).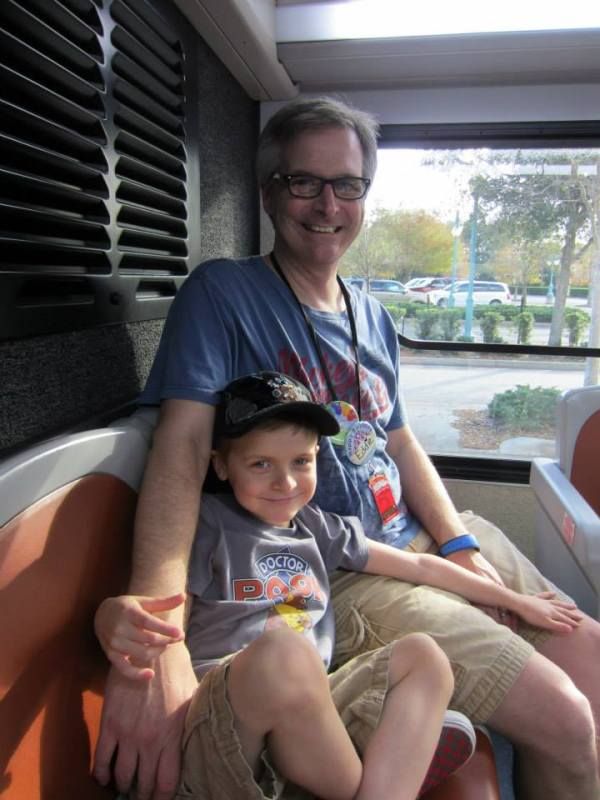 Eddie had run out of time with all of our last minute pre-trip details in OKC to get a haircut, so I had called and made an appointment for him at the Harmony Barbershop at Main Street USA. We were excited about the possibilities: a serenade from the Dapper Dans, the Big Red Scissors, all kinds of Walt Disney, 19th century cuteness. Yeah, no. The shop was closing at 5:00 p.m. and you could tell the barbers and stylists just wanted to get out of there. This was more of a Bibbidi Bobbidi BOO
But! He did get a great haircut --and at $19 for adults, that's not bad -- and I got some cute pics.
As we were entering the MK, the 3:30 Once Upon a Christmastime parade was just ending (we caught Goofy, Clarabel -- one of Jonah's faves -- and a couple of princesses). I told the boys to come on, despite LOW (and I mean low) crowds between the train station and the barbershop to view it, because we'd be seeing it in a few days. Oh, how I'd live to regret those words.
After Eddie's haircut, we sped down Mainstreet USA and grabbed a couple of PP photographers. (Since I ordered the PP CD, our pics aren't in yet).
Then we made our way to Frontierland, in anticipation of the Frontierland Hoedown which, according to Disney's website, was to begin at 5:30 p.m. that day. The boys decided that a snack was in order (since we'd eaten lunch at 11:00 and wouldn't be having dinner until 9:00) so they grabbed their favorite WDW snack.
Eddie asked for a cup of cheese with his pretzels (we used 3 snack credits, one for each pretzel and one for a bottle of water to share) and were going to pay OOP for the cheese, but the cashier misheard him and gave him a churro. Plastic Cheese...Styrofoam Churro, they both start with CH and are both featured at Taco Bell. It's an easy mistake. The cashier saw Eddie's birthday button and, after giving him the requested cheese, gave him the churro free of charge with the first cheery, "Happy Birthday, Eddie!" he heard all week. I said, "Hey, free churro!" and ate half of it. Meh. Plastic churros are plastic. Maybe if they're fresh? I digress.
With time left until the hoedown, we decided to cut through to Adventureland for one of Jonah's favorites last year, The Magic Carpets of Aladdin.
The posted wait time was 20 minutes, but we waited less than 10 minutes. Here's a pic of one the few times we waited standby during Christmas Week, and of my Minnie ears!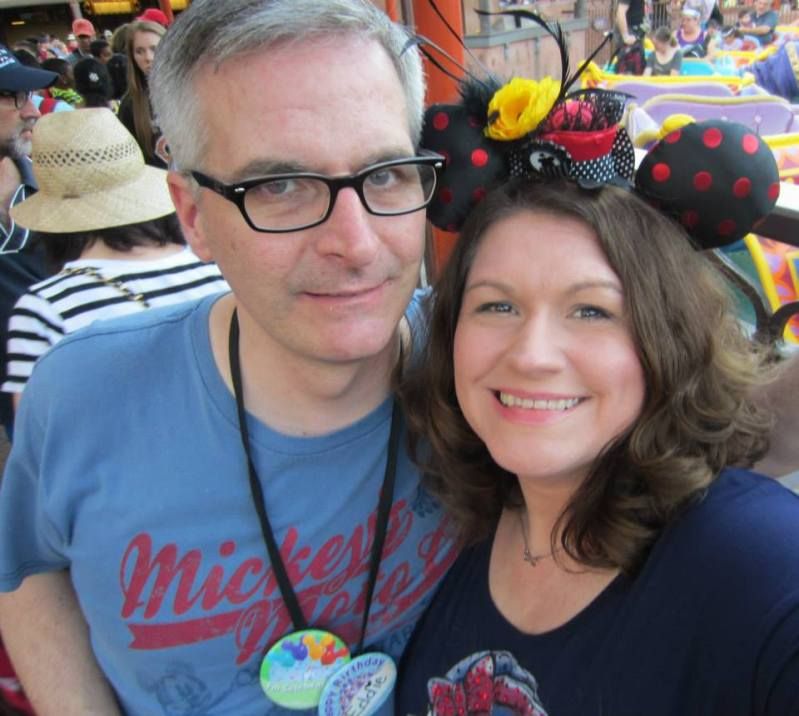 I know a lot people consider this ride "just a spinner" but I was one of those kids who wanted flying carpets to be real long before The Arabian Nights were Disneyfied, so I love it. Would I complain if the spinner were removed and an interior, Forbidden Journey type ride were built instead? Uh, no.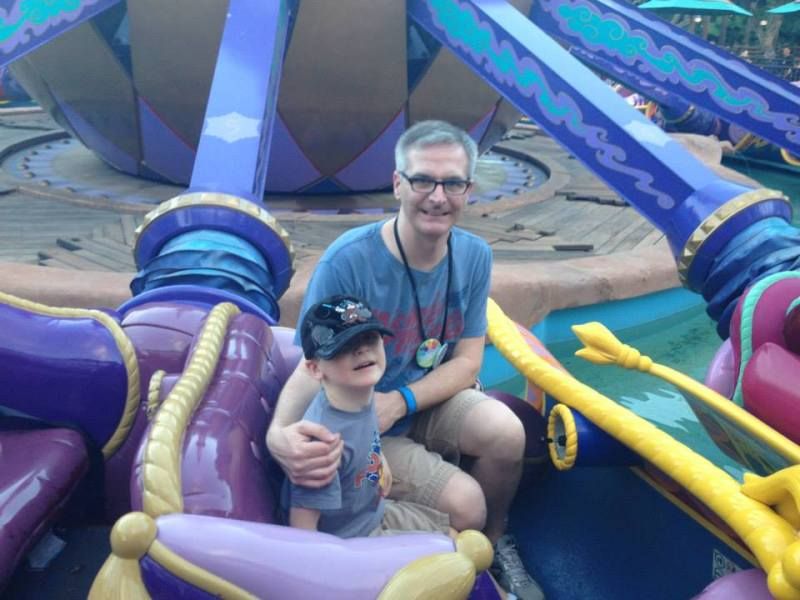 There was still no sight of a Hoedown, and since we had time (our first FP+ wasn't until 5:55) we decided to check out the Country Bears. As I said, I'm from Oklahoma and an Oklahoman who's not into country and western things, and in the past 40 years I've gotten my fill of Hee-Haw type, cornpone humor, so I hadn't ever planned on visiting this. I thought it was cute, and I can see how its lack of a wait time and cool interior would be welcome on hot summer days. Eddie thought it was cute in a Hyuck! knee-slappy way, and Jonah thought the old theater was stinky (I like the stinkiness of old theaters).
We went back out to find that there was no Hoedown to be had (Nooooo!). We had so been looking forward to it, because it's one of the few places to see Clarabel, and I really wanted to get a pic of her. Oh, well. We were at Disney World and there was lemonade to be made (or at least snack credited).
We made our way back to Fantasyland to use our first FP+ selection.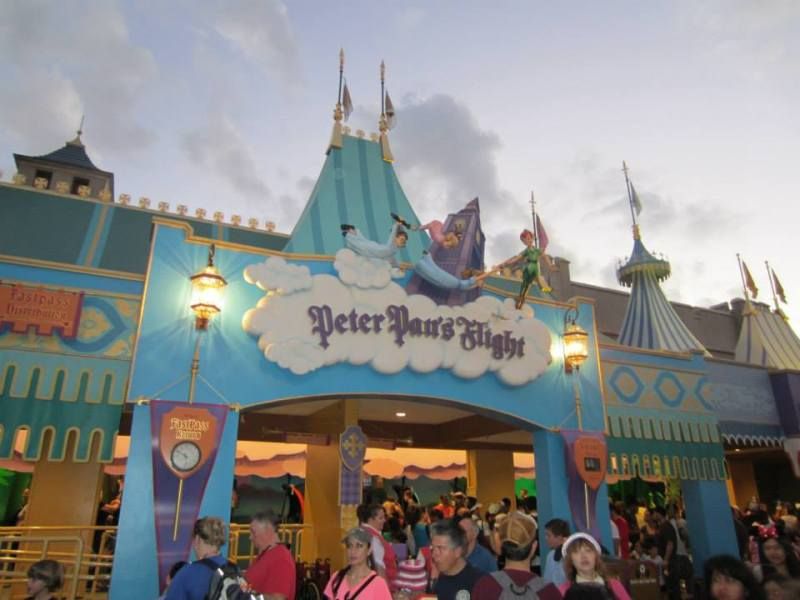 The standby wait was 90 minutes, so I was super glad I'd changed this to a FP+ instead of trying to do it standby later in the evening "when the crowds subsided." I was ambivalent about this ride last trip (I think we did Fantasyland too quickly last time) but I really enjoyed it this time. It helped that Jonah has now seen all Disney movies (except The Jungle Book and Lilo and Stitch, working on those) and helped point out mermaids, Tiger Lily, etc.
After, Eddie went to try to find a hat at The Chapeau while Jonah and I walked on to Prince Charming's Carrousel. I love a good Carrousel, and that's evidently an hereditary trait: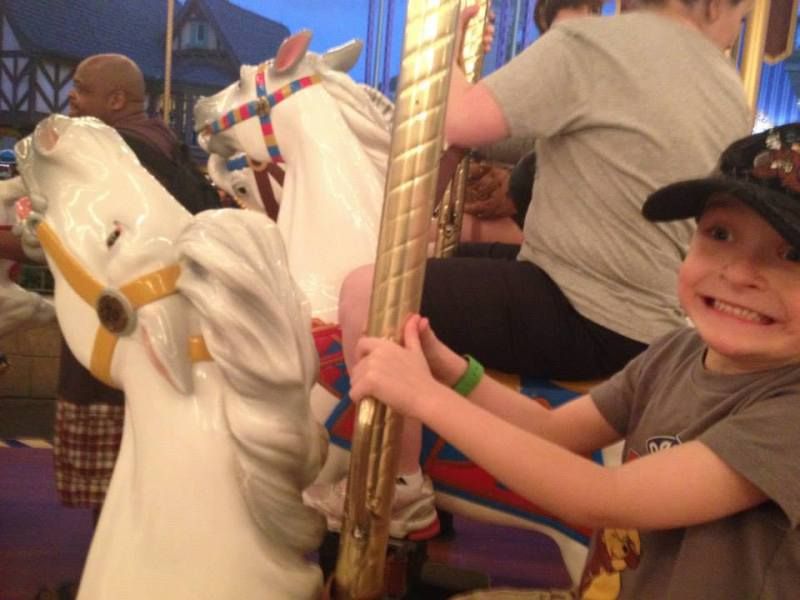 We tried the Sword and the Stone afterward, and while he was NOT the new King of England, it was still an amusing good time.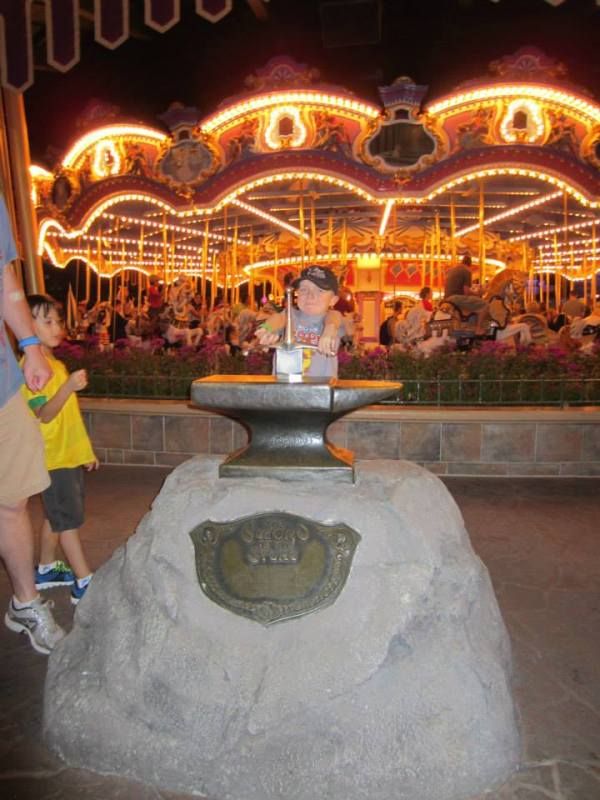 We met up with Eddie who was annoyed at still not finding a hat that fit (uneasy lies the head that wears no crown) and headed to the castle stage for Cinderella's Holiday Wish.
After suggestions from Mickey and Minnie and the gang, The Fairy Godmother lights Cinderella's Castle for Cinderella and Prince Charming and their guests to enjoy.
We got there at 6:00 p.m. for this 6:30 p.m. show and there was still plenty of room with the people seated in the hub. HOWEVER, once we were seated and the show was beginning, the inevitable rush of Disney late-arrivals eager to sit on top of the early birds occurred. I haven't mentioned yet that I broke my left great toe 5 weeks before we left for Disney World, have I? Well, I did, and I was wearing a knee-length orthopedic boot which, while it let me canvass the parks like medi-Darth Vader, did not allow me to bend my leg. So I was sitting with my leg stretched out in front of me in an obvious cast, with the other bent behind me. I'm only 5'1' and I curled into Eddie, so I wasn't taking up much more room than if I'd sat "crisscross applesauce" but oh, the people who sat on my leg. A little girl next to me (around Jonah's age) crept up and leaned against me, and that was okay, I like kids and I don't mind making room for them. Rude people standing in front of the seated and worse, standing ON the seated, almost made me lose my Christmas cheer.
I said almost. This was worth it.
I managed to get up in the crowds after the lighting ended and got out ok, despite the swarm, but Eddie was carrying Jonah and was shoved and stumbled and twisted his ankle. That was the worst moment of the trip, though, and oddly, the worst crush of crowds. Just too many people trying to leave the same small space at once.
We made our way to Tomorrowland (one of Eddie's favorites because it's one of the few things he remembers from the trip when he was 4) and saw it lit up for the first time (we did Tomorrowland at rope drop in 2012). We timed Monster's Inc Laugh Factory just right and walked in as they were seating. That was super cute. We weren't "That Guy" or any of the other pictured guests (it was a full room) but Jonah thought it was hilarious.
Then we were off to Space Mountain to use our FP+! Jonah wasn't tall enough to ride SM in 2012, so we'd skipped it. I had shown him videos and asked his thoughts about riding it this year, and I had booked him a FP+ for it because I wasn't sure we wanted to split up and do Child Swap. Once there, he agreed to ride it. The three of us got into the car: me first, Jonah in the middle, and Eddie in the rear seat. That ride is TERRIFYING, haha! I loved the beginning, but once the actual rollercoaster began and I got air from the first big hill, I thought, "Oh, dear God, I put my 5 year old on this!" He was FINE. I was just having the vapors. We all agreed, though, after it was over that it was one-and-done. Eddie because someone with two prior back surgeries shouldn't have ridden it, me because I couldn't do it without being able to see Jonah and Jonah because of the dark. But! We've ridden Space Mountain. So, win.
We followed Space Mountain with our last FP+ of the day at Buzz Lightyear. The boys rode together and I had TWO blasters at my disposal and Jonah STILL beat my (combined) score. I have horrid hand-eye coordination, but considering the last video game I played with any intent was Ms. Pac Man in grade school, I'm giving myself a pass.
We stopped in at Mickey's Star Traders and saw that they had a Build Your Own Lightsaber kiosk. We wouldn't have to wait until Tatooine Traders at DHS. Eddie and Jonah constructed Jonah's lightsaber while I shopped for and purchased absolutely nothing. I had saved all year, putting money on a Disney gift card to buy Christmas gifts and souvenirs for us and our family, so of course since money was (somewhat of, it is Disney) no object, I wanted nothing but to hang out with the guys.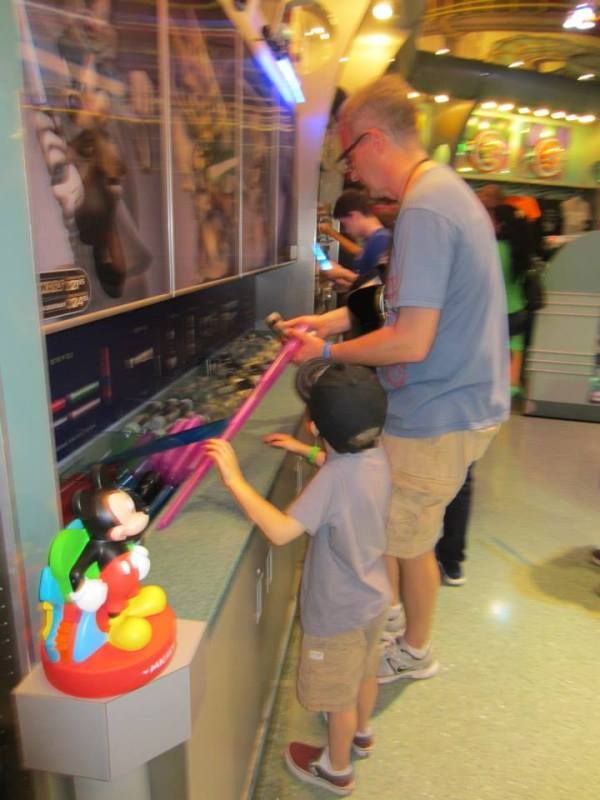 It's purple!
We left Tomorrowland, promising to see it again at the Dessert Party our last day, and headed to New Fantasyland for our highly anticipated dinner reservation at Be Our Guest!