Hi Everyone! I am the sister of the groom and wedding planner for my brother and his fiance's wedding
It's been such a help planning their wedding by reviewing everyone's Planning Journals etc., so I figured that I would start one for their wedding as well!
Allow me to give you some background on how this wedding came to be.. Disney World is such a big part of our families lives. For many years we've been going annually and fall more in love after every trip! Skip ahead to late 2013... My whole family decided to make this years trip during December for the holidays. As I was looking at the 2014 calendar to decide on a week, I realized that my 6th wedding anniversary (Dec. 13th) was to be on a Saturday.
My first thought was "we should renew our vows in Disney!" I was very close to being a Disney bride, but had opted to have our wedding at home so extended family could attend. When I had told my brother(who had recently got engaged) about my plan and the recent info that I had found our from DFTW he was extremely interested and decided that would be perfect for the wedding that him and his fiance would want! So out was my plan for a Vow Renewal and in was the Disney Wedding!
They had decided originally on an Escape wedding with the ceremony at the WP. I submitted their dates for the Lottery and at last, I got the email that they had been selected for December 8th(their first choice)!
Such a relief after that was over!As we started moving along with the guest list and the planning of the wedding, it was realized that with all of the extras that they wanted to add on and the limited guests(2 big families) a Wishes Wedding was a better pick for them. I had called DFTW and they said it would be no problem to switch to a Wishes Wedding. We were able to keep the WP and settled on the American Adventure Parlor(limited # of locations available since it was only 6 months prior to the wedding). My brother really wants to have the reception at the Tower of Terror, or any other location in Hollywood Studios, but we have to wait to reserve that still. We sent in the add'l deposit and were reassigned a new wedding coordinator. We received our planning kit a few weeks again and last week just had our planning session! We all enjoyed because we could really picture the wedding day by the way our planner was describing it!
So here are some of the finalized details: For visual purposes, I've included photos that I found on the internet
Ceremony Location: Disney's Wedding Pavilion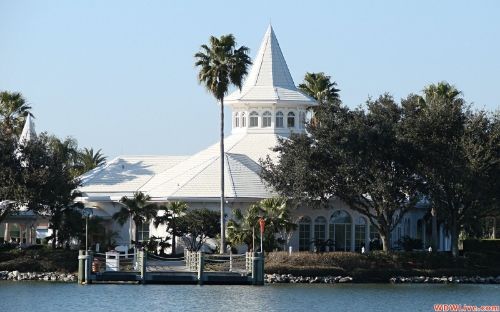 Reception Location: Disney's American Adventure Parlor
Dessert Party Location: UK Terrace( We may end up canceling this)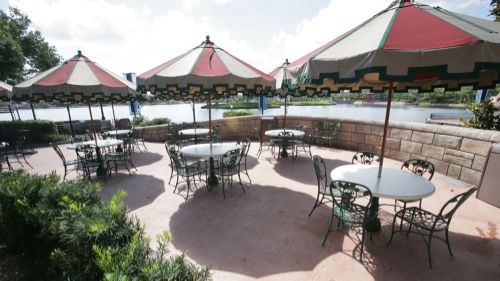 Details!!!
Transportation: 1948 Cadillac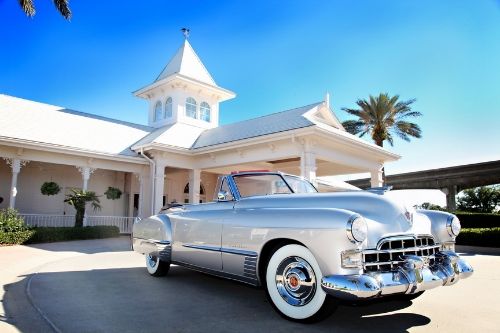 Dress: Disney Collection-Sleeping Beauty
Programs: Custom Made-Guidemap/Times Guide
Front
Opened Once
Opened Again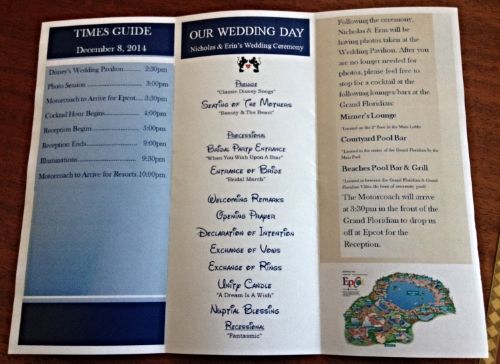 Back
I hope you follow along as we start to finalize more details! Within the next week or 2 we will be setting up the appointment with the florist to go over floral, linens, chairs, etc. Any questions, feel free to ask!