Sunday
Sat and Sun were difficult because on Friday our AC got hit by lightning. It took us til Sat aft to figure out that was why it was so HOT, and then we fought the heat until late on Sunday. We went out Sun morning, but when the repair guy DIDN'T come back first thing Sunday morning, we figured out the dog needed us to come rescue her. Anyway, I'm getting ahead of myself.
So, we left home about 8:15 Sun am, hoping to make rope drop at US. I had been keeping an eye on lines on the new rides (Despicable Me and Transformers) with a phone app, and the lines were ALWAYS long. So we were going to try to make rope drop and see if it helped.
We almost made rope drop, and were in the park by about 9:15. We beat it toward Despicable Me, but they were changing it from 45 min wait to 60 min wait as we got there. Ugh. I think Despicable Me fills up faster because it's so close to the front of the park.
So we kept going, and I was really surprised that Transformers was only 20 minutes. Yesss! We hopped into line there. The queue was pretty cool. Ds enjoyed it.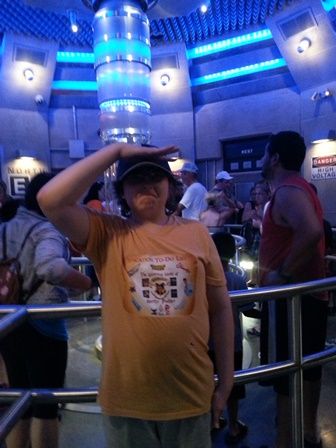 We had a bit of a groan when they announced that the ride was down, but it only stopped us for 5-10 minutes, and then things started moving again.
I enjoyed it, I must say. I haven't watched the movies, but the queue got me "into" the story, and it was fun. Besides Forbidden Journey, it was our first simulator, and we enjoyed it. It did feel like we were in the movie, which is what you're going for.
After that, I wanted to do "Disaster", which we'd not done. The wait was about 20 minutes, but only because we'd just missed the start of the previous show. When they let us in, it still wasn't a huge crowd, but enough to be fun. We were being "recruited" as extras for the disaster movie production, and then a few were selected to appear in the "feature". When the host asked for "three people to be villians who can do a scary laugh", dd put her father's hand up, and he was picked. Dh is a secret ham, and has a surprising deep "radio voice" when he chooses to use it. I suspect the host finds one or two volunteers he can "work with" for laughs in each group, and when he heard dh's "scary laugh", it was on.
"Oooh, I said scary, not creepy. You're making me uncomfortable there, Ron." So every chance he got thereafter, he made a joke about "Scary Ron" or "Creepy Ron". (Dh has a new nickname :ROFL
I managed to sneak my phone out to take a photo and tape the taping of dh's and the other villains' "scene", but my phone was upside down and I can't figure out how to rotate it!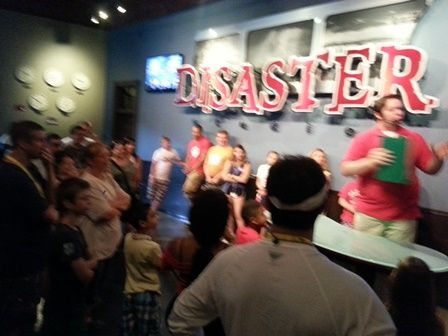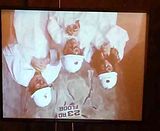 (Ok, this isn't working, I'll try to upload it to youtube later...it's just a quick clip of the bad guys including "Evil Ron".)
Then we got our guy back, and we loaded into the train cars. That part was fun, but mostly because we were hamming it up, hoping we'd get our 15 seconds of fame. (We didn't, the cameras were focussed on the empty rows behind us, but we had fun anyway.) The "feature" that they stitched together was funny, and we enjoyed the whole thing.
After that we wandered around and found our way to Men In Black, with no wait. So we did that ride. It was fun; dh won of course.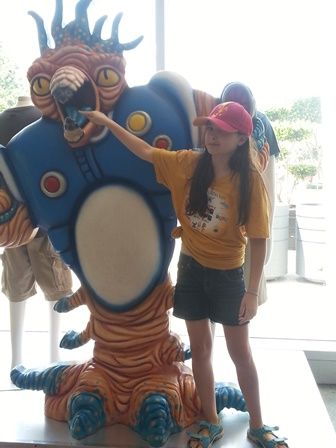 Dd is scared of mounted animals. Apparently ds is repelled by The Simpsons, and we couldn't walk through Springfield even with the bribe of a giant donut . So no "Lard Lad" for us. We did get to peek at the construction for the new Harry Potter London area. Can't wait to go back!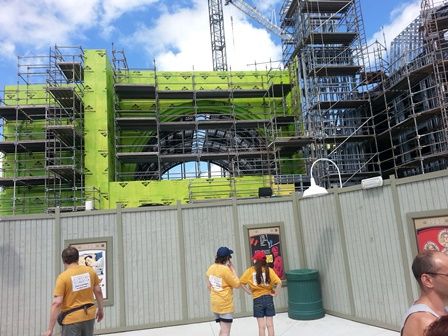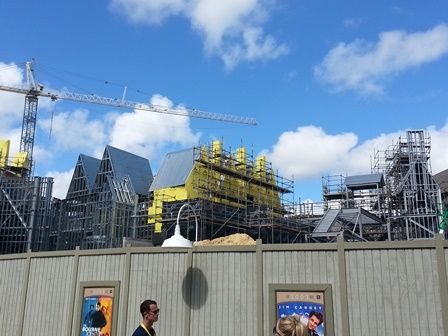 While we were moving around the park, I spent a lot of time leaving messages for the property mgr, trying to find out what was going on with the AC. The repair guy was supposed to be there at 8, but revised it to 10...when we were waiting for Disaster, he was "driving to the house now". At 12 we had no update so we left the park. Other than Dispicable Me, the park was relaxed and we had a good time doing new stuff for the morning.
Our next plan was that we'd finally grab a meal at Friendly's before heading to the (presumably cooling) house. (Friendly's was "on the shirt" for 3 of the 4 of us.) We got there around noon, and I could now check that off my list.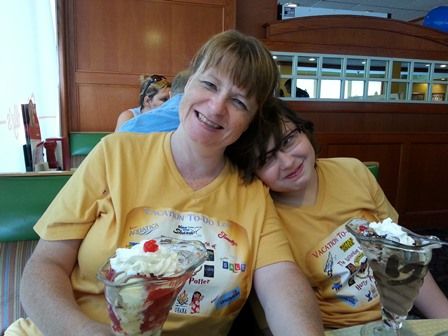 One of the staff members got so excited about our shirts she asked if she could take pictures.
We got home at around 1:45, expecting that the AC would be fixed--and he hadn't even arrived. It was a mess, and we ended up sticking around the rest of the day to make sure it got fixed. But I'm not going to whine about that. Instead we used the opportunity to enjoy a few more pool beverages.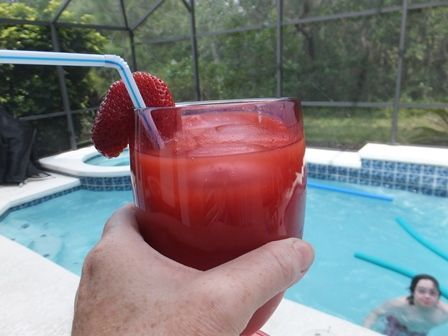 We got to try Transformers, dh got a new nickname, and we had ice cream. It was a productive day.