DIS Veteran
Join Date: Sep 2009
Location: Chicago, IL
Posts: 5,175
Big Brother, Dramamine, and a Calf Strain
---
Hi everyone!

I figured I would get started, because there is pre-travel to talk about, then travel, and I am the kind of person that needs to tell the complete story.
Ready? Hey ho....let's go!

I'm gonna take you way way back to Wednesday July 3rd. That's where our story begins.

We all had to work. It was right after we closed the books, so I still had a lot of work that had to be done. And, my baby pupperdoo Nanook had to be taken to the kennel, so I opted to do that first thing in the morning.

What were Mom and Dad doing at this time? They were already in WDW, and had been for several days. So, true to form, Dad was looking ridiculous in pictures.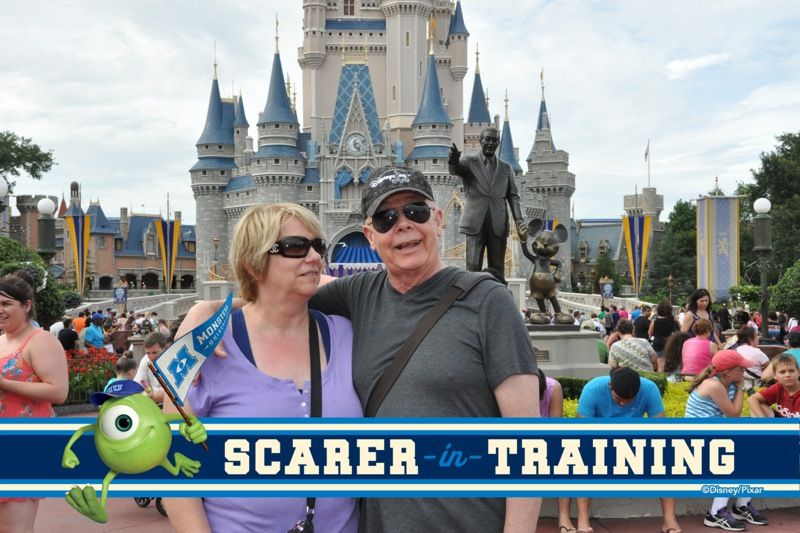 But....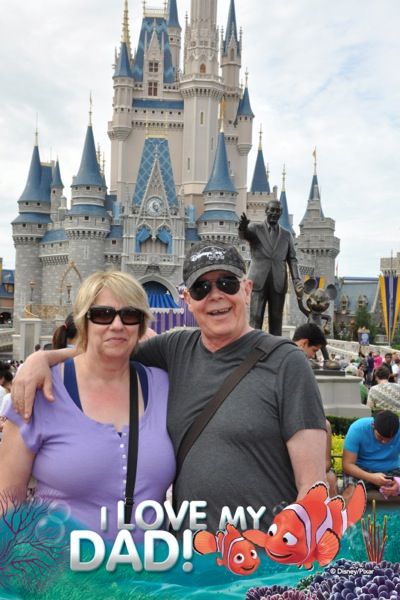 I LOVE MY DAD!

This one's even better.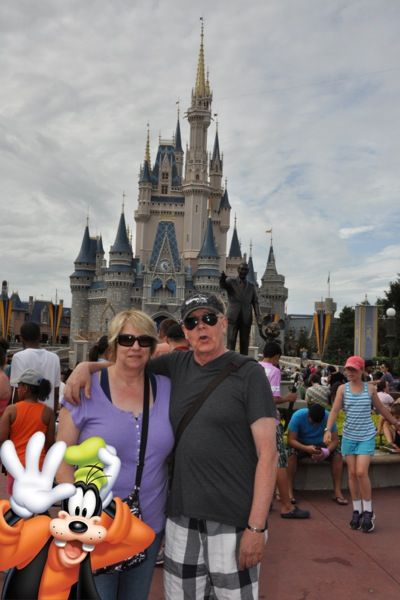 Seriously. Man never looks serious and can't stop making noise. Hence the always open mouth.

Me on the other hand, I was corralling the pupperdoo into the car and heading over to the kennel.




Mom and Dad on the other hand? They were now getting frisky.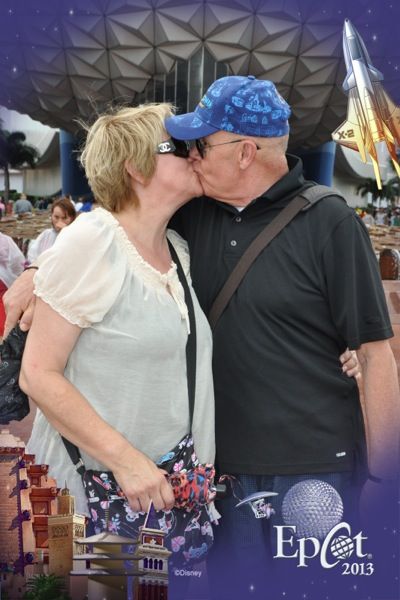 Spot Popadon's side eye? He's so silly.

I survived my work day and rain out of the building like Usain Bolt at 5ish.

I got home and went through the normal process.

Trash out? Check.

Dishes done? Check.

Shower taken? Check. Especially if I don't want to offend anyone on the plane.

Cat alive? Check.

Then I headed next door to Jason and Jeni for pizza and Big Brother!

I have never been one for Big Brother, but I started watching this season and have to admit that I am addicted. Thanks Jason!

I made my way back to my house and crawled into bed at 10:30pm. I definitely had wanted to go to bed earlier, because my wake up time was 3am.


4 1/2 hours of sleep. Not enough by any stretch of the imagination but I don't care. I'm going to Disney World!

I went to crawl into bed, and someone had taken my spot!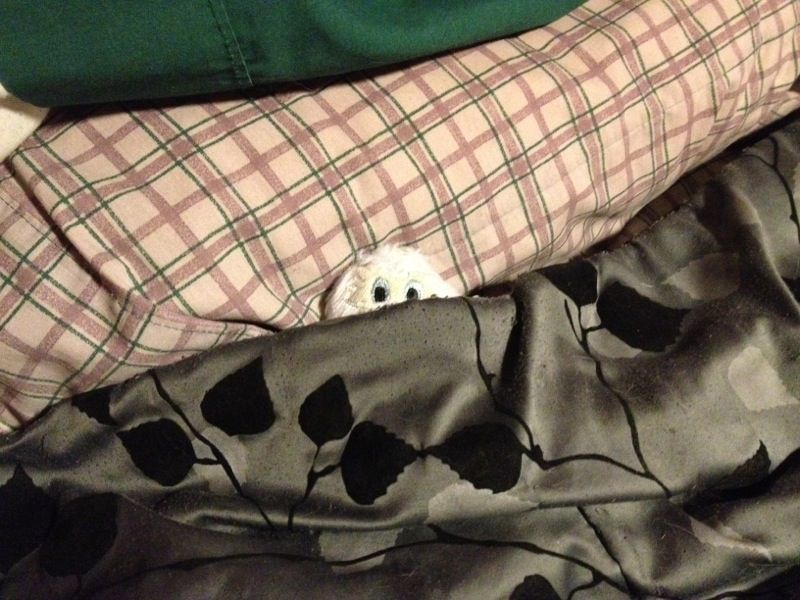 Little bugger.

3am came early. And right after my alarm went off I texted all three phones Jason and Jeni have to make sure they got up too. I did my makeup, got all my stuff together and headed over next door at about 3:40am. They were getting last minute things together (not abnormal for Jason. He's slow), and the boys were up watching the Disney Channel.

The limo driver showed up early, at 10 to 4.

So I start running (read trotting lightly) across the law, and like an idiot I land on my flip flopped foot wrong and restrain the calf I had strained on my 10k. Really?! Trotting across my lawn! That sucks!

It wasn't pleasant, and it actually ended up bothering me for the trip. But, I'm a trooper and I pushed through.

Jeni sent the boys over right after me, I locked up, and got the boys in the limo. Jason and Jeni were right behind. We were on the road in no time.

The boys were super excited about the limo! For like 5 minutes. And then it was "are we there yet? are we there yet?!"

We made it to the airport by 5am, but not before taking some limo shots!




They seemed pretty awake for having been up since 3am.

When I had booked the flight on American, I had put all five of us in row 19. Well, when I checked the flight a week before our departure, they had moved three of us back to row 29 and the other two were still up in row 19.

The just frosted my cookies! And I tried to move us to a row together, and it wasn't available. So, I figured that we could check at the counter at the airport. I checked. They could put all five of us in the last row, but Gavin started freaking out. This is where the dramamine comes in. Flying makes him sick, and he has to take dramamine. He went to see his aunt in Oklahoma for spring break and flew his first flight alone to do so. He was placed in the last row. And threw up regardless of having taken his dramamine. So, in Gavin's head:

Last row = happy go pukey

So, we kept everything the way it was.

TSA went really fast and we headed to the food court to relax and get some breakfast. Only two options? Dunkin Donuts and McDonald's.

How about both?

Yeti is a pig by the way.




We're sleepy but excited!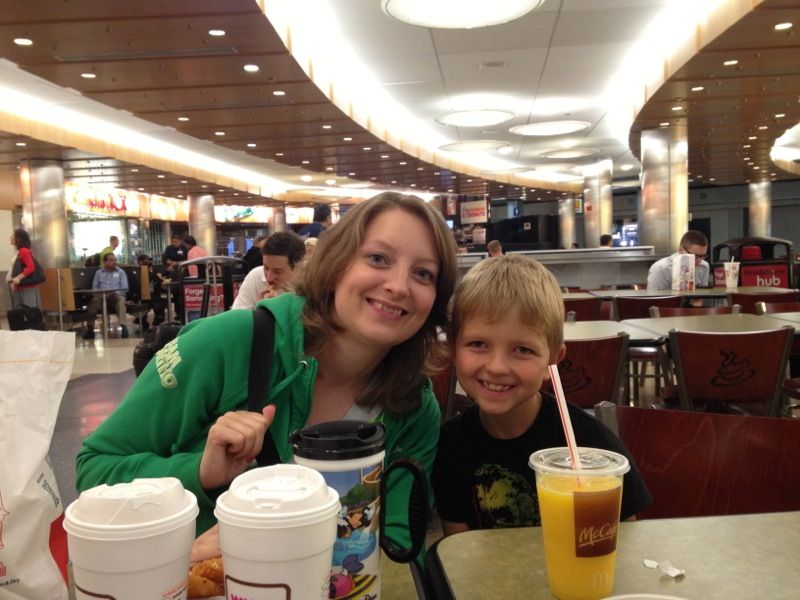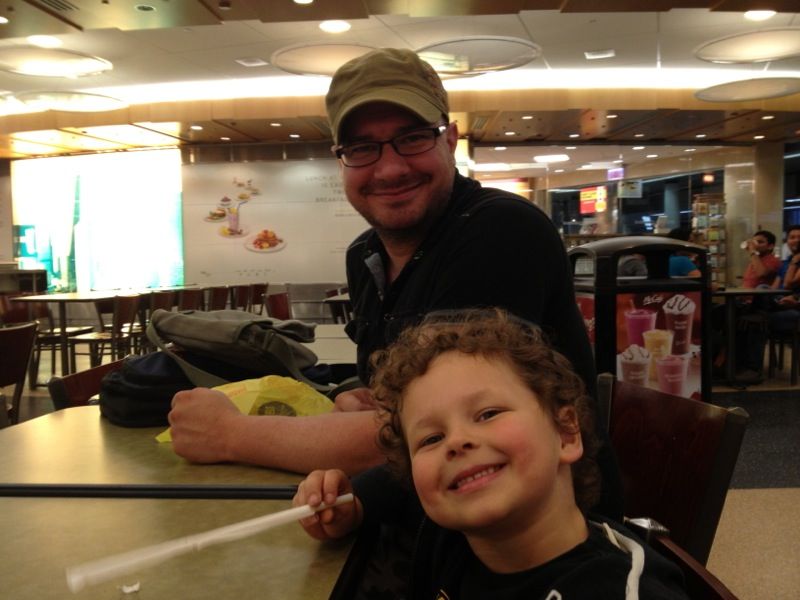 Yeti was making the rounds.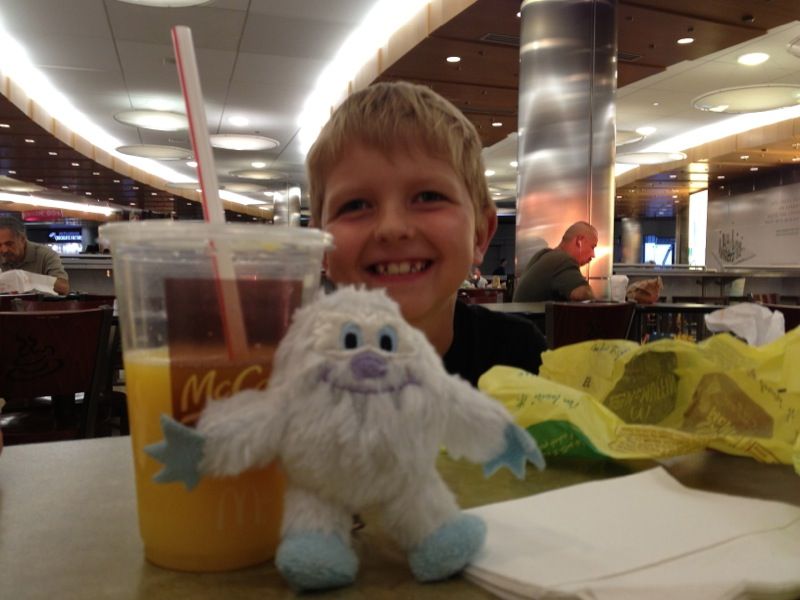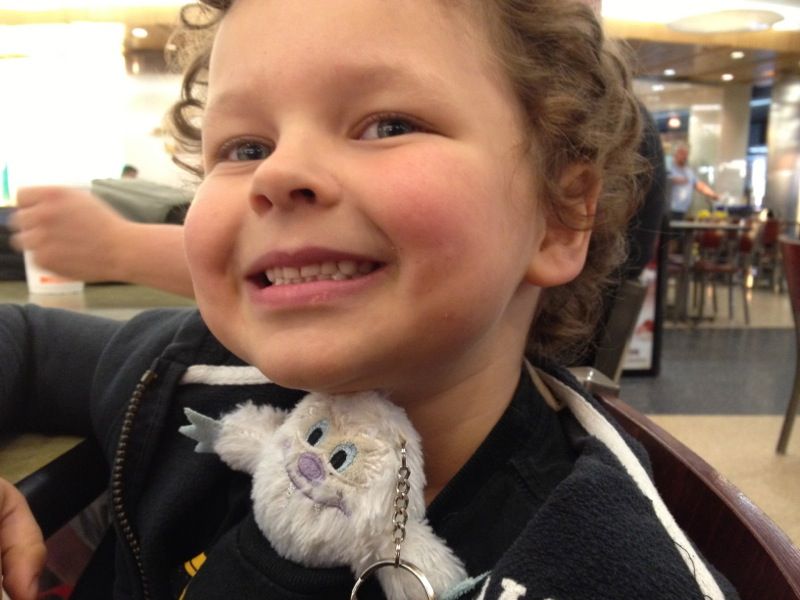 I was so looking forward to my Dunkin Donuts coffee. And this was officially the worst I'd ever had. Normally, all locations are consistent. And this one. Tasted like butt! I didn't even drink 1/2 my large coffee. That's sacrilege! That never happens. Not in my world.

Joaquin looks at Jason while we're eating and he goes:

Joaquin: Daddy, what are you drinking?

Jason: Coffee.

Joaquin: NO DADDY! Your cup says, WHAT ARE YOU DRINKING?

Oh five year olds. And he was so dead serious, basically implying DUH, to Jason.

We browsed through the bookstore a little and then it was almost time to board the plane. Jason, Joaquin, and I took row 29, and Gavin and Jeni took row 19. We made sure to give Gavin his dramamine while we ate so he was good to go on the plane.

What do we do the pass the time?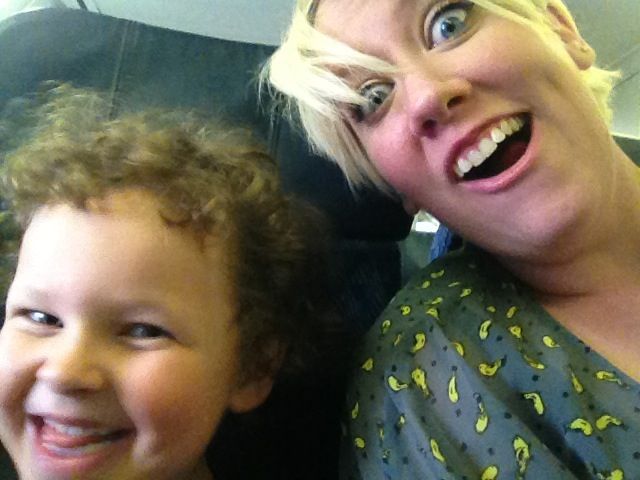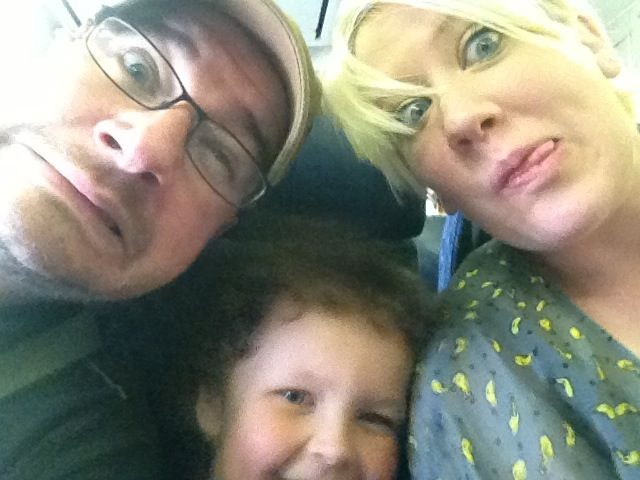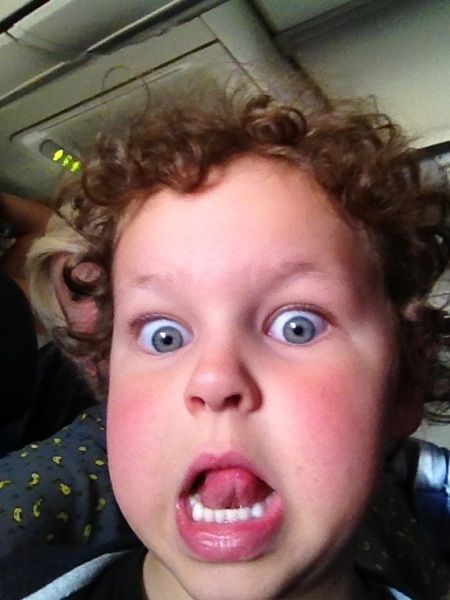 I do have to comment on this family that was sitting in front of us. The mother (who I believe was in her 50's) had this really bizarre skirt on. I'll give you a point of reference.




Um.....not really age appropriate. Just strange plane attire to me. Oh well. To each their own.

Jeni got up at some point to go to the bathroom, and she grabbed Joaquin to go with her. Jeni stood in the aisle talking to me while we tried to get Joaquin out of the seat. Well, this lady had followed her down the aisle, and didn't seem to care that we were trying to get a child out of the seat, and basically shoved Jeni out of the way so she could wait for the bathroom first. Really lady? Plane aisles are narrow enough. This other woman was going to start to do the same thing, but I basically pushed Jeni back so it didn't happen.

It looked kinda like this.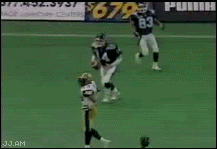 Hahahaha!

I ask everyone. Where you gonna go? You're on a plane!

The rest of the flight got a little turbulent and the landing was kind of turbulent too. Joaquin took it like a champ. Before we knew it, we were here!




Fauxnorail!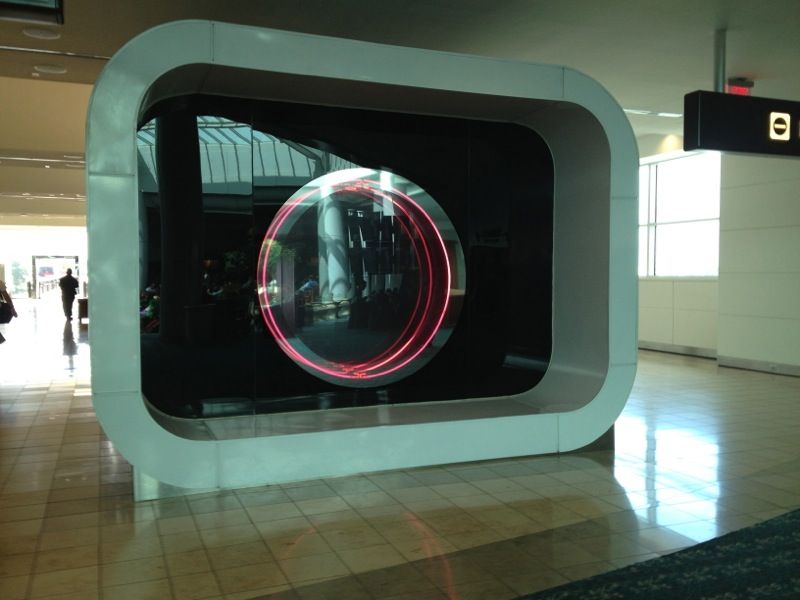 Really excited to see Poppy and Ommi!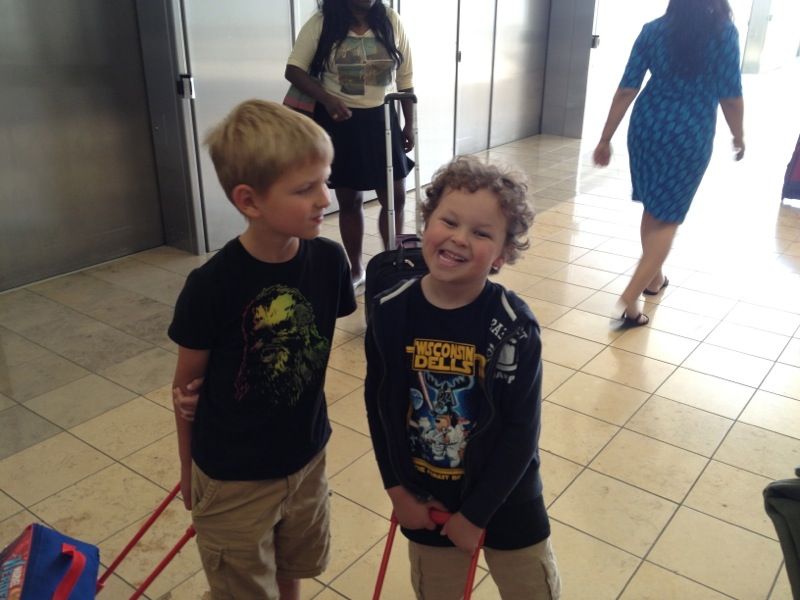 Pole dancing on the fauxnorail!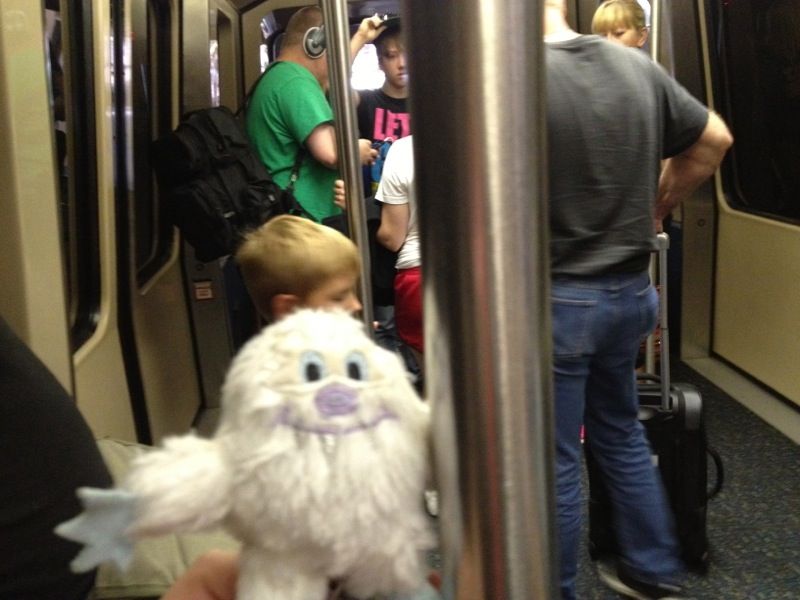 Up next: Um....I thought my parents would be here already to pick us up!

__________________
Follow me on Instagram: @keep_calm_love_disney
Danielle
In progress TRs:
That Foo's Boo Is Incredible!!! - Jan 14 TR
I Want to Sell Tee-Tee to Other People! - July 13 TR
Um, Where's the Ice?! - A July European and DLRP Adventure
Completed TRs:
Apr. 13
Nov.12
Jan.12
Nov. '11
July '11
Feb. '11
Nov. 10 and Jan. 11
Oct. '09.