I recently read a review about the restaurant during lunch, and I think that that'd be the time to go to try the food since I don't think there's entertainment at that time. But I just didn't personally like the food too much. There are so many other places that fit our tastes that we'd prefer to try instead ... places with fabulous bread or bread service like Kona Cafe! Whoops, I'm getting ahead of myself ...



Yes, the appetizer is something I'd recommend! I don't drink beer, but it just seems like it'd go PERFECTLY with some cold beer!





We definitely would have enjoyed going during the lunch hour. It probably didn't help that we were at Epcot earlier as well so we were already feeling tired. A long day at DTD and then a late lunch sounds much more fitting!



Haha, it's funny that I'm actually fine with Cracker Barrel! I don't think it's the greatest place with it's busy atmosphere and the wooden tables and chairs, but I think I was dying to eat there for so long that I just accepted it all as like, homestyle southern flair!

I could never go to a club either! I think I'd huddle in the corner and just cover my ears and close my eyes. Yeah, I'd definitely recommend lunch and that appetizer!





We don't typically eat at the sit down places at DTD either, but we figured we'd do so for our honeymoon. I think I'd like to have some appetizers at Paradiso 37 though. That crazy corn looks like something I'd enjoy!



Yeah, there are a few things I like seeing in Figment, but that moon makes me cringe! If I had to ride that by myself, I think I'd panic!

I was scared of HISTA when I was younger because of the feeling of the mice at your feet and the big snake or lion or something that came at you.

Yup! It seems so strange for that house to be inside the Innoventions building, but it's right there!




__________________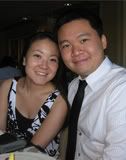 Always the Weird to my Ninja
Mr. and Mrs. Weak Sauce Go the Distance
(Disneymoon TR in progress)
Saving Dole Whip Float Money
- PTR for Feb 2011 //
Delicious Indeed!
- TR for February 2011
It's Better Than Stuffed Mezzaluna with Sausage!
- PTR for April 2010 //
Weird and Ninja's Pre-Disneymoon
- TR for April 2010
A DISer's Trip of Firsts!
- TR for Feb 2008 //
The Flat Adventures of Weird and Ninja!
- Living the Life Outside of VMK
BLOG / INSTAGRAM / TWITTER
- Msg me here if you want to follow